RONCALLI HIGH SCHOOL WEEKLY NEWSLETTER - October 22, 2021
GIRLS SOCCER
2ND STRAIGHT SECTIONAL TITLE!
Saturday, October 9, the Roncalli girls soccer team won the Class 3A sectional title. Junior Micah Waugh scored the Royals' first and third goals of the evening. Freshman Summer Fishel scored on a penalty kick for the team's second goal. With the win, the Royals earned their second-straight sectional crown and the 11th in program history.
"These ladies have raised the bar for Roncalli girls soccer," said head coach Lacey Hersman. "They've scored 56 goals this season, doubling last year's total and only allowed 14 goals in 20 games, with nine shutouts. They've earned back-to-back sectional titles."
Congratulations to the girls soccer team. We are proud of you!
STUDENTS OF THE MONTH
Front row left to right: Aiden Hill, Frankie Carothers, Emily Sering, Celia Boring, Paige Gibbs Back row left to right: Matthew Hurrle, Christian Ampil, Sam Morris, Olivia Swearingen, Zach Schneider (not pictured: Ashley Vazquez-Buquer and Jesus Quintana)
We congratulate our most recent Students of the Month, who were recognized at a luncheon in their honor Monday.
VOLLEYBALL WINS SECTIONAL TITLE
Last Saturday, the girls volleyball team defeated Perry Meridian to win the Class 4A Sectional 11 title.
"This week we focused on hustle plays and making every point count," said head coach Christina Erazmus. "If we want to go far in the tournament, we have to go one step at a time, playing aggressive and playing mistake free and I feel like that's what we're doing. We know what we're up against and are excited to get back in the gym and get ready for regional."
The 2021 sectional title is the program's 30th overall and fifth straight. The win marks the first time the program has won five straight sectional titles since a string of 12 straight from 1987 through 1998. This year's title is the program's seventh sectional title since moving to Class 4A in 2011. With Saturday's victory, Roncalli became only the eighth girls volleyball program in IHSAA history with at least 30 sectional titles.
Roncalli travels to Greenfield-Central for Saturday's regional round (Oct. 23). Roncalli will face Brownsburg (26-6) at 12:00 PM in the regional semifinal.
CROSS COUNTRY SEMI-STATE RUNNERS
The Girls Cross Country Team competed in Regionals and placed 3rd, advancing them to semi-state! Earning all regional recognition was senior Lauren Turk 12th, junior Sara McGraw 15th, sophomore Valeria Lara 16th and freshman Rachel Flick 19th.
The Boys Cross Country Team placed 8th at Regionals. Individual efforts: sophomore Jack Davis 27th (advances as an individual to the semi state), seniors Jack Rittenhouse 33rd, Jean-Luc Euzen 39th, Ronan Euzen 48th, junior David Warner 53rd, sophomore Nathan Hollcraft 59th and freshman Sam Vaught 61st.
Congratulations to the Girls Cross Country team and Jack Davis for advancing to the cross country semi-state!
WALKATHON 2021
"Walk a Mile, Pray Awhile"
Donate Online - roncalli.org/walk
All students received an email from Boost My School. This contains their individual link to share in order to receive online donations. If your student did not receive this email, please email Jeen Endris.

If your student has cash or check donations they may submit those donations (with their envelope) at any time in the advancement office or throughout the remaining collection times during all lunch periods in the CAFETERIA:

Monday, October 25
Tuesday (after the PSAT) October 26
Wednesday, October 27

Learn More

(Even when students reach their goal online, students need to turn in their envelopes.) When turning these envelopes in with the student's goal met, they will receive their Walkathon t-shirt and FREE COOKIE COUPONS for the days leading up to the walk!

Please click here to learn more about Walkathon and the FAQs.

Calling for parent volunteers to help with the walkathon. Please email Jeen Endris if you'd like to get involved.

This year's Walkathon is Thursday, October 28. (The rain date is scheduled for October 29.) The Walkathon is the only all school fundraiser in which Roncalli students are asked to participate. Every dollar raised through Walkathon funds provides needs-based tuition assistance for Roncalli families.
SUPPORT WALKATHON
Want to show your support of this year's Walkathon, we need gift cards for our students who reach beyond their goal and raise $100 or more in donations. Great ideas for gift cards: gas cards, Starbucks and fast food places. Please drop these by the front office to Jeen Endris' attention or send them into school with your student.
PSAT DAY
OCTOBER 26
On Tuesday, October 26, all freshmen, sophomores and juniors will be taking the PSAT during the school day. Students should try to get plenty of rest the night before and eat a healthy breakfast before the test. Students will receive an email with their assigned testing location after Fall Break and will report to their assigned rooms with two number two pencils at 8:20 AM on PSAT day. Students will be dismissed when testing concludes at around 12:30 PM. Seniors will not come to school on PSAT Day and should use this time for college visits or job shadowing.
Homework Hub
Room 211
3:15-4:15 PM, Monday - Thursday
After school homework hub is a space to do homework or meet for study groups. TUTORS are available!
ALL students are welcome.
No need to register.
Just show up after school.
If you have questions, please email Beth Reel, assistant principal for academic affairs, or call (317) 787-8277, ext. 222.
Celebratng Bob Tully
Ticket information and full details coming soon.
CATHOLIC SPEAKER JASON EVERT
Roncalli is thrilled to host nationally known Catholic speaker Jason Evert. He is the founder of Totus Tuus Press and The Chastity Project. Jason will speak to all Roncalli students on Friday, November 5th after rescheduling from the 2020 school year. We will have a special schedule for the day and release school at 2:30 PM.
Project Outdoor Nativity Scene
PLACE YOUR ORDER TODAY!
In this secular society, the true meaning of the Christmas season has been diminished or dismissed altogether. Join Roncallli High School (as well as parishes and schools around central Indiana) to bring back outdoor nativity scenes! It's our hope that the nativity scenes will serve to brighten up our neighborhoods and remind our children of the importance of the Holy Family in the Christmas season.
$100.00 per kit
Order below
Deadline is Monday, October 25th
Kit distribution will be in the beginning of December.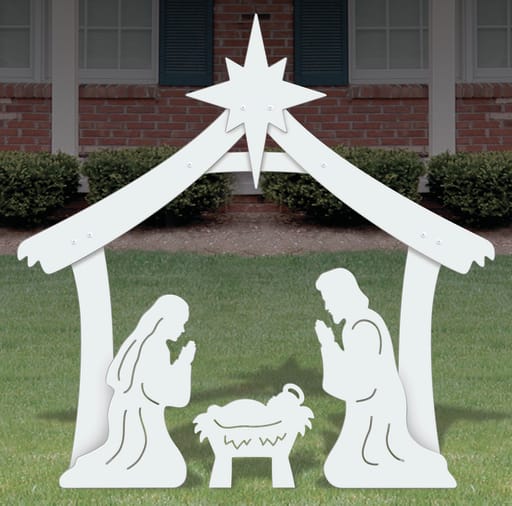 Four piece silhouette style display is made from all-weather white plastic board that never needs painting. Assembles easily using only a Phillips head screwdriver. All hardware, yard stakes and instructions are included. Measures 48" tall to top of star x 50" wide.
Questions: Email Amy Kuntz or call (317)787-8277 ext 278.
RONCALLI SPIRIT STORE
ANNUAL HOLIDAY SALE
The Roncalli Spirit Store will hold its annual Holiday Sale on Saturday, November 6 in the Roncalli cafeteria from 9 AM to 1 PM. We will have tons of awesome, new merchandise in the latest styles for everyone on your Christmas list. Eighth grade parents, shop with us while your student takes the Roncalli placement exam. Check out our FB page for weekly sneak peeks.
For more information, please email Amy Kuntz, Director of the Roncalli Spirit Store or call 787-8277 ext. 278. See you at the sale!
WORK OPPORTUNITIES AT RONCALLI
Roncalli High School is looking to fill positions in our maintenance, grounds and custodial areas. Both full and part time positions are available. Benefits are available for all full time positions as well as tuition discounts to the school. Ask us about our part time positions with full time benefits and tuition discounts! If interested, please contact Dave Gervasio at 317-787-8277 ext. 246.
RONCALLI CAFETERIA IS NOW HIRING!!
Our team oriented staff would like to add to our family of cafeteria employees. If you are interested in working part-time one to three days a week serving our students and staff or simply being a substitute on call, please email Jeff Richardson or call (317) 788-4099. This institution is an equal opportunity provider.
CATCH THE FOOTBALL GAME TONIGHT!
Roncalli Media Network
If you can't make it in person tonight you can catch the football game on Roncalli Media Network.
listen
TUITION WORK PROGRAM INFORMATION
The Tuition Work Program provides for an ultra-flexible part-time job where you can...
Sign up to work when YOU are available
Work as many events as YOU want
Receive an hourly rate ranging from $12-$25 depending on the event
Sign up as many family and friends as you like to work toward your student's tuition
Work in premier venues with other Roncalli families
This program can really make a big impact on the amount of tuition a family has to pay. Some families work in the program to pay their entire tuition bill.
If you have questions, please contact the program administrator, Angela Maly.
If interested, sign up here.
TRANSPORTATION NEWS
WE CAN HELP YOU!
Find us on Facebook for carpooling/transportation information: Roncalli High School Carpooling/Transportation

Through the years, we have proven to be very successful in helping families/students that are in need of transportation assistance(to and/or from school).

If your family is in need of assistance with transportation, please email Andi Baker or call 317-787-8277, ext. 221. Please provide her with the following details (your name, contact information, major crossroads near where you live and what your needs are (ride to school, home from school or both). We will make every effort to connect you with another RHS family that can assist with your transportation needs.
If your family/student is willing to assist other RHS families/students with a ride to school and/or home from school, please contact Andi Baker and provide her with the same information as noted in the first paragraph. This can be an excellent way for your family/student to benefit from some extra gas money.

Learn More

We have the following RHS families who are in need of some assistance with transportation. If your family would like to pick up some additional gas money and provide assistance for one of these families would you please email Andi Baker or call 317-787-8277, ext. 221.

Needs ride home 3-4 times a week (Center Grove area)
Needs a ride home Monday,Tuesday,Thursday and every other Friday. Can pay $5 a day or $20 a week. (Harding and Banta)
Needs a ride home from school daily (Greenwood area between US 31 and 135)
Needs a ride home from school daily (Southport Road and Franklin Road)
Needs a ride home from school daily (Stop 11 and Bluff - Shannon Lakes across from Killarney neighborhood.)
Needs a ride to school on Monday, Tuesday and Friday(465 and 74, near Nativity and Marion Co. Fairgrounds)
GUIDANCE CORNER
Please see the Roncalli Guidance Blast for these important updates!
Paying for College Night/FAFSA Completion Event - Tuesday, Oct. 26th in the Student Life Center at 7:00pm. CLICK here to register to attend Juniors, Seniors, and their families are encouraged to attend!
Roncalli Career Day - Nov. 5th - Sophomore, Juniors, and Seniors SIGN UP here!! TODAY is the deadline to register to meet with your choice of 23 different professionals to learn more!
Indiana Latino Institute Summit - November 6th - REGISTER here
Next Generation Hoosier Educators Scholarship - Click here to learn more!!
Indiana University Cox Scholarship Application is OPEN!
VACCINATION INFORMATION FOR TEENS
PLEASE PRAY
For the repose of the soul of Mary Balint, grandmother of junior Audrey Balint. May God provide her family peace during this difficult time.
For Lisa Rutherford, a substitute teacher, mother of sophomore Elijah Rutherford, who is struggling with a chronic medical condition. May God provide her strength for this journey.
For Sr. Cathay Anne Lepore, Hon'06, long time teacher at Roncalli, who is recovering from surgery.
For Dennis Stephenson Hon'93, who is battling serious health issues.
For Bill Mullen Hon'14, who is battling serious health issues.
For Kathy Tinder, long time teacher at Roncalli, who continues to battle serious health issues.
For God's blessings and mercy upon Archbishop Charles Thompson and his ministry in shepherding the Archdiocese of Indianapolis.
For those who struggle to find adequate food, clothing, shelter, and medical services and for those most in need of God's mercy.
For healing of body, mind and spirit for all people dealing with depression, addiction or mental health issues.
For strength and healing for all those fighting off life-threatening illness and for their families and caregivers.
For the men and women of our armed forces and their families, especially our Roncalli High School alums who are serving in the military.
For our Roncalli alums preparing for a religious vocation as a priest, religious woman or missionary.
For vocations to the priesthood, religious life and missionary field, and that Roncalli High School and its families will provide a nurturing environment that fosters and supports these vocations.
PAST NEWSLETTERS